Šeit jūs varat izlasīt dažus skaistus šī maģiskā, tik daudz enerģijas prasošā notikuma stāstus, dažādās valodās (dažkārt pat vienas ģimenes ietvaros :)). Palūkojieties tajos, varbūt atrodas kāds, kas uzrunā jūs īpaši un dod jums papildus drosmi un iedvesmu noticēt, cerēt un piepildīt, papildus pārliecību, ka viss būs labi! Katrs dzemdību piedzīvojums ir brīnumains un īpašs pat tad, ja viss nenotiek tieši tā, kā bija plānots vai izsapņots!
Kseniya, Tobias un Elin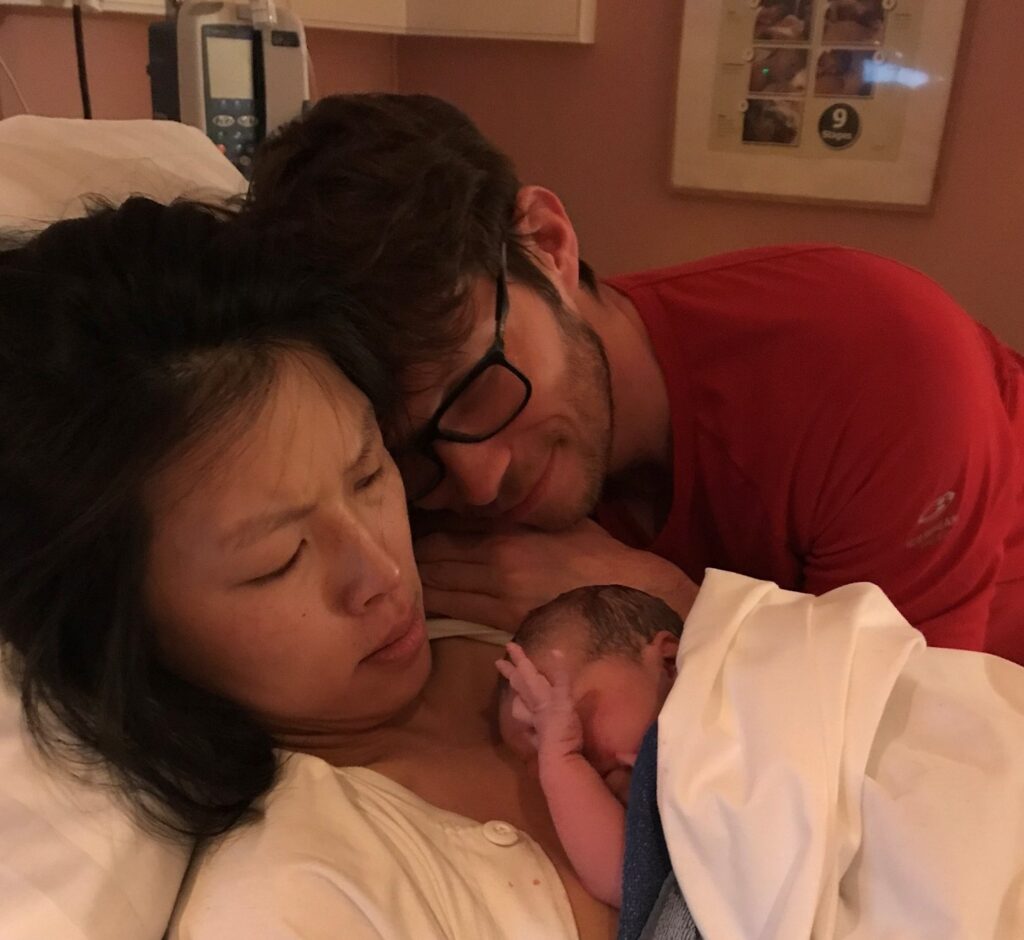 Kseniya
Я могу от всего сердца рекомендовать Ивету как даулу. Благодаря ее поддержке роды прошли очень хорошо, я очень рада, что решилась рожать с даулой.
Я обратилась к Ивете, когда была где то на 6 месяце беременности. Моя беременность протекала без осложнений, я чувствовала себя хорошо и у меня была очень хорошая акушерка, которая меня вела. И хотя моя близкая подруга рожала с даулой и рекомендовала мне тоже, я не видела необходимости иметь даулу. Но ближе к родам я стала больше переживать и все таки решилась встретиться с Иветой, чтобы просто поговорить и больше узнать о ее работе. Нам очень понравилось как все прошло на встрече и я решила рожать с даулой.
Воды отошли ночью, в роддоме сказали ждать схваток в течении 24 часов и если их не будет, то меня будут стимулировать. Я сразу позвонила Ивете и получила рекомендации на день. К вечеру следующего дня начались схватки. Ивета приехала утром и сразу увидела, что схватки были очень слабые, хотя мне казалось , что я вот вот рожу. Я рожала в мае 2020 и в роддоме рекомендовали, если есть возможность, то оставаться дома как можно дольше из за covid -19.
Схватки длились весь день, но были нерегулярные. В роддом мы поехали в 10 вечера и в 1 ночи я родила девочку. Ивета была с нами дома все время и можно сказать учавствовала в каждой схватке. Она буквально вела меня через каждую схватку, рекомендовала позиции и делала массаж. Я все время чувствовала огоромную поддержку. Я уверена, что если бы не поддержа Иветы в течении дня, то мы бы поехали в роддом намного раньше, и думаю меня бы стимулировали, и весь опыт был бы другим.
Я очень рада, что решилась в итоге рожать с даулой и могу всем рекомендовать, это огромная поддержка в то время, когда женщине она нужна больше всего.


Tobias
Vi fick hjälp av Iveta när vår dotter Elin föddes. Det kändes tryggt att ha Ivetas hjälp under förlossningen. Jag uppskattade det framförallt under tiden hemma då jag kunde få tips på konkreta saker att hjälpa till med som partner.
Vi träffade Iveta 1 gång innan vi bestämde oss för att ha Doula, sedan 1 gång till före förlossningen, när värkarna startade kom hon och hjälpte oss hemma i vår lägenhet och följde sen med till förlossningen och var med under hela tiden. En tid efter förlossningen träffades vi igen och Iveta berättade om allt utifrån sina anteckningar. Det var fint att få det återberättat, det var flera delar som jag inte kom ihåg så det hjälpte mig att behålla många fina minnen från förlossningen.
Jag rekommenderar verkligen att ha med en Doula i förlossningsarbetet och speciellt Iveta. Det tog bort mycket oro kring om vi gjorde rätt hemma och gissningar när det var dags att åka in till BB.
---
Liene, Riccardo un Leo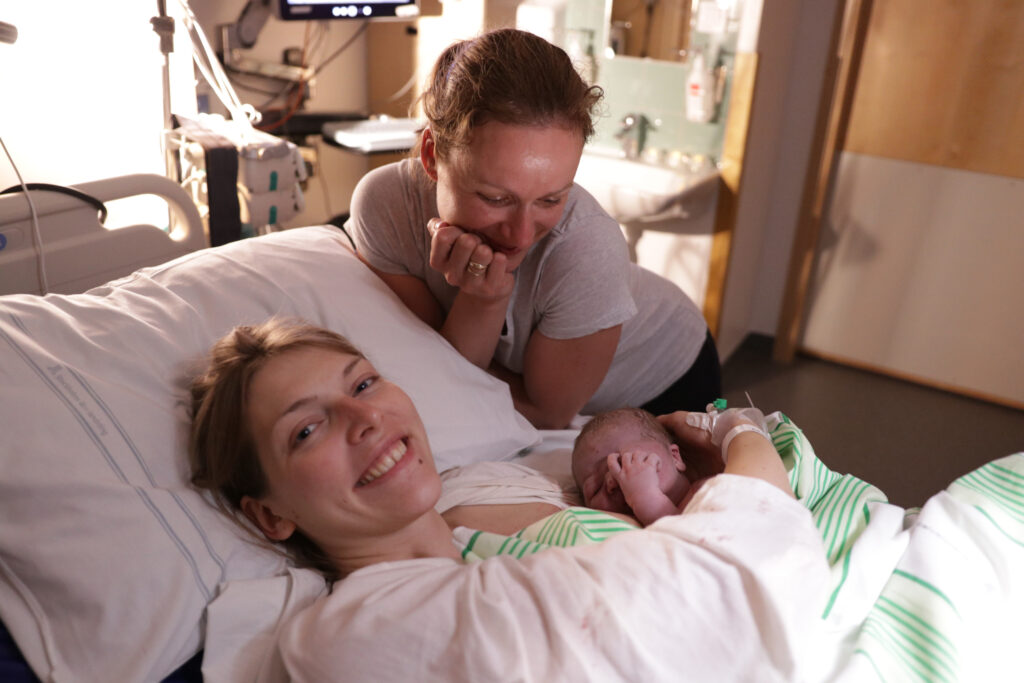 Liene
In 2019 I was expecting my first baby. Everything was new and I was stressed by the information overflow about pregnancy and childbirth. At the time I had no friends or family who had recently gone through pregrancy and I felt a bit lost. Still, I was determined to learn and get all the possible help.
Meanwhile, I saw a post on Facebook about doulas and what their role is. I immediately got in touch with Iveta, who published the post, and we had an interesting chat about how doulas can help in childbirth. I got encouraged by Iveta's calm, peaceful and empathic attitude and I felt like we were a match. Moreover, I was convinced that a smooth childbirth with proper support leads to good mental state afterwards and healthy relationships with your growing family.
With my partner, we discussed all the benefits and couldn't point out any drawbacks for choosing a doula and in particular Iveta, so we went for it.
Apart from the childbirth itself, we also had a meeting a couple of weeks before to go through our expectations and uncertainties. I was very happy to have this calm and more informal chat because I had felt that my midwife never had enough time to talk with me about the differed aspects of birth. The focus was always on the medical procedures, not on my general wellbeing.
I was very pleased with the close contact I got with Iveta and I feel like I gained a person I can always call and chat on all occasions. She was the first person I called to say I got my contractions, even though it was in the middle of the night.
When we arrived at the hospital, she was already waiting for us. I appreciate all the small details she thought about, like making the hospital room cosy, putting on candles and changing the light. Those six labour hours went by so fast with Iveta's help. She encouraged me to be active, made me change positions and showed how my partner could help and get involved. When I look back, I can't imagine my childbirth without her support. We even got compliments from the hospital team saying that me, my partner and Iveta worked together like an experienced team.
I'm grateful to Iveta for everything she did and if another family member will be on its way, she will certainly be my first contact!
---
Emelie, Martin un Medina
Vi kan varmt rekommendera Iveta som doula. Vi bestämde oss rätt tidigt för att ha en doula och letade runt tills vi fann Iveta, som vi kände ett starkt förtroende för redan från början. Det började med att Iveta kom hem till oss ett par gånger, vilken kändes väldigt tryggt. Vår förlossning höll på i fem dagar och var väldigt långdragen. Under den här tiden kändes det oerhört tryggt att ha Iveta där som sov ett par nätter på vår soffa och var ett enormt stöd. Förlossningen satte igång och stannade av, även när vi var på sjukhuset och jag och Iveta dansade loss på BB för att försöka sätta igång allt. Iveta hade även med sig en massa brandsäkra ljus till oss, så att jag och Martin kunde släcka ner och försöka återhämta oss lite från det långdragna värkarbetet. Mot slutfasen så var Iveta och Martin där vid huvudändan och coachade mig genom andningen. Efteråt stannade Iveta kvar lite och vi drack bubbel och firade vår dotters födelse och vårt teamwork. Iveta var även ett stöd för att se till att amningen kom igång som den skulle. Sedan tillbringade vi tre dagar på BB-hotell för att landa lite i vår nya familj och när vi väl kom hem igen så kom Iveta och besökte oss efter en vecka, för att ses och prata igenom hela upplevelsen.
Det var en oerhörd trygghet att ha Iveta med oss på den här resan. Martin håller med om att det var en enorm trygghet för honom, som partner, att ha Iveta där. Vi känner båda att det var det bästa beslutet någonsin och om ni funderar på att ha en doula så kan jag verkligen rekommendera Iveta, som är väldigt varm, lyhörd och inkännande. Hon fanns alltid där och stöttade när vi behövde henne samtidigt som jag och Martin alltid kände att vi fick vårt utrymme – bara vi – när vi ville.
---
Nora, Rihards un Ralfs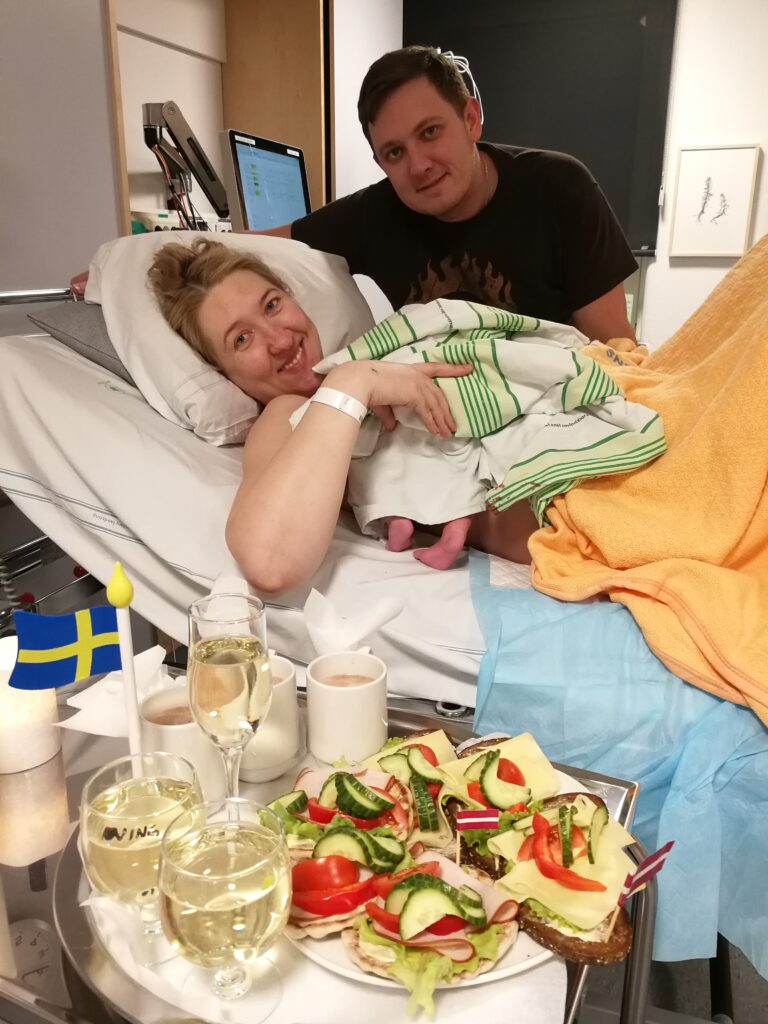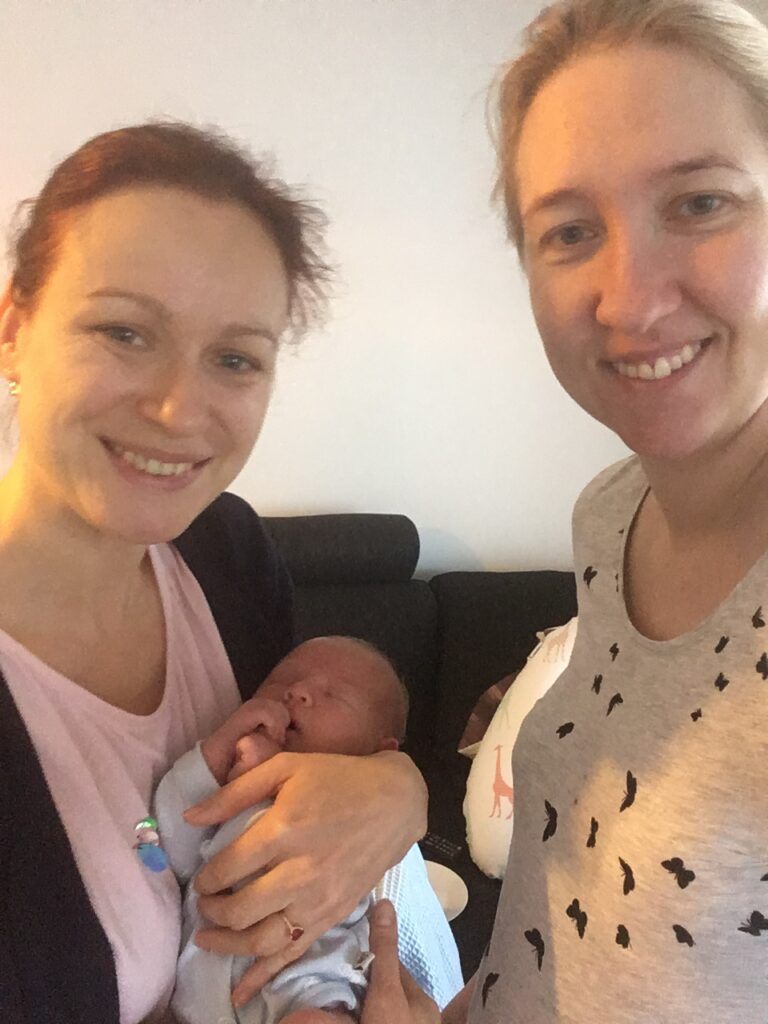 Nora
During pregnancy in 2018 I had red different birth stories, heard a lot from my close friends and started to think about mine which was soon to come. It felt that I might need some help, not medically as I was sure Swedish health care is one of the best in the world but help in understanding what's going on if I get lost in all those emotions, if something goes wrong and quick decisions needs to be taken or if I don't understand what's needed from me right that moment. Even if I knew that my husband will be the best help, I thought we, and me, need someone else there with rational thinking.
It was like someone up there heard me and soon after I red Ivetas post on Facebook group about her being a doula I contacted her. I knew a bit what doula is, but I didn't know Iveta. She suggested to meet for a coffee first. All of us had a "fika" in Stockholm city where we touched different topics. Same minute after leaving café me and my husband looked at each and without saying we understood that Iveta is what we need in our soon to come journey.
We met Iveta once more before The Day and what we liked best is that she gave us theoretical information on childbirth, practical advices during labour but also talked with us about emotions. I still remember her question: how do you imagine your child's birth? At that moment it struck me…. I never did. I did, but never in details so I could explain to someone else. I went quiet (or answered something stupid) and she navigated me by asking me questions which helped me put it in words. Iveta gave me both push and confidence to think, imagine and forthfill my child's birth. And I did.
Contractions started in the middle of night. We contacted Iveta early in the morning before going to hospital. She came directly. She was with us the whole, long but beautiful day and baby boy came later that day.
During labour Iveta supported not only me but also my husband by giving small advices on how to help me which I think was not less important. He was able to go through this unique experience together with me but also support his wife. Iveta understood quite fast my micro signs "up", "no", "more…more", "stop, now" and "For God sake when will this end!" and to hear something like "one more, just one more push and you will soon see your baby!" was all I needed to hear. And I am not the emotional type of people.
Why would you choose Iveta? I know you can handle it on your own, I know your husband will be there for you 100% but Iveta can be your safety net. Not only you but also for your husband and will do her 110% for you both to have the most amazing experience to meet your baby. Iveta is very calm, rational, supportive, friendly and steady in her communication. She has great language skills and she's truly passionate about doula essence.
If we are lucky enough to have more children, I have no doubt Iveta will be there to support us during the whole amazing experience.
Rihards atbalsta Noru dzemdību laikā.